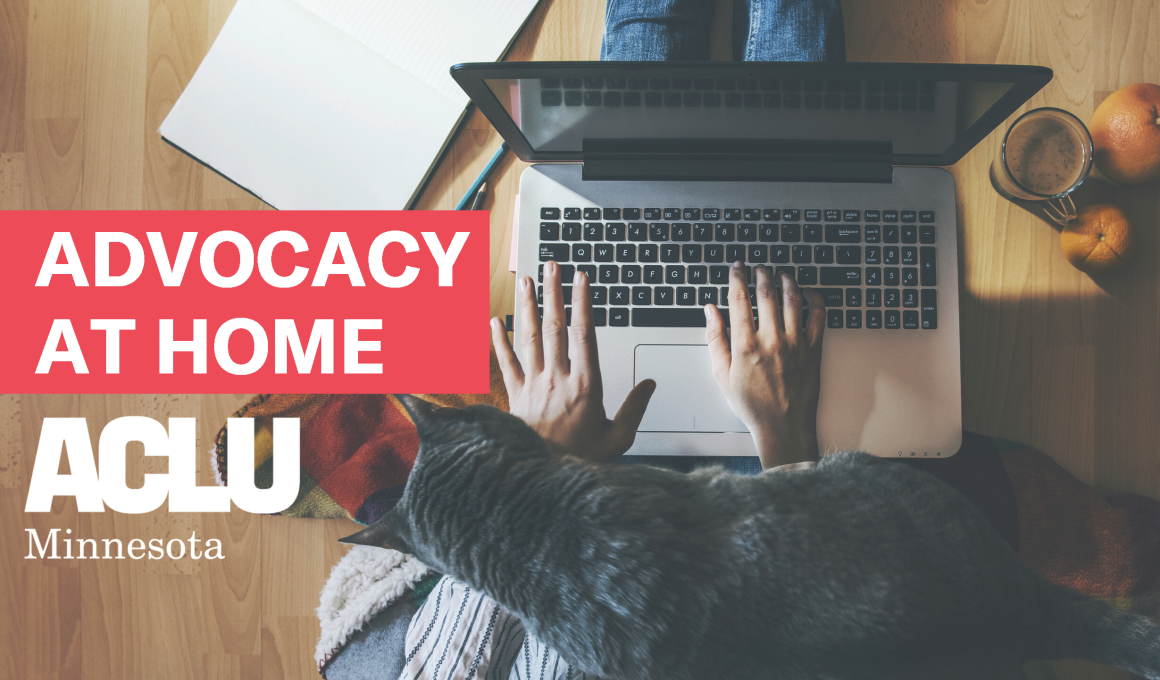 Right now, we are living in unprecedented times. It would be easy to give into fear and helplessness, not to mention go a little stir crazy. But a great way to battle the uncertainty – and cabin fever -- is to get involved in the fight for civil liberties, even while you're stuck inside.
We have a lot of work to do, including reducing mass incarceration, ending the dangerous and cruel tactics used by ICE, and reforming unfair and restrictive voting laws, all of which threaten the most vulnerable people in our communities.
The work toward equality and fairness cannot stop because many of our lives are, for the most part, moving indoors. Fortunately, we don't need a march or a rally in order to engage in advocacy. We can find strength in ourselves and each other, and in turn, work to strengthen our communities.
STRATEGIES FOR ENGAGING IN ADVOCACY AT HOME
CO-SIGN OUR LETTER TO GOV. TIM WALZ
The COVID-19 outbreak hasn't caused the ACLU-MN to shift its focus. It has only made our work — and our priority issues — that much more urgent. On March 18, 2020, we sent a letter to Gov. Tim Walz, Attorney General Keith Ellison and other elected leaders asking them to respect the rights and protect the health of all Minnesotans by:
Limiting arrests to only the most serious offenses.

Releasing people who are in jail simply because they can't afford to post bail.

Recognizing at-risk people should not be in jail, absent extraordinary circumstances.
You can help now by adding your name to the letter: https://action.aclu.org/petition/mn-covid-19-recommendations.
CALL COUNTY SHERIFFS IN MINNESOTA
We've already asked ICE to release these individuals and even sued for their release. But in the meantime county jails should take the proper precautions to safeguard against the spread of COVID-19.  People should be tested if they show any sign of illness, and the jail should release information daily on the number of people tested and the number of confirmed cases, for the entire population — not just ICE detainees. 
Please call county sheriffs whose jails also house ICE detainees, and ask them to: 
Test anyone who is ill, including staff 
Publish daily reports on the number of people tested, including the number of positive and negative tests  
Send testing reports to the Department of Corrections 
We are working to reduce the prison and jail population as well, but these safeguards should also be put in place immediately.
CHECK YOUR VOTER REGISTRATION
The presidential primary has already occurred in Minnesota, but Election Day (Nov. 3, 2020) will be here before you know it. Double-check whether you're registered by visiting the Voter Information Portal, courtesy of the Minnesota Secretary of State. Not registered yet? No need to worry! You can register to vote online. 
We're fortunate that Minnesota already allows us to vote by mail, with no excuse required. To learn more about how to vote early by mail, visit: https://www.sos.state.mn.us/elections-voting/other-ways-to-vote/vote-early-by-mail/
FILL OUT YOUR CENSUS FORM
If you or your neighbors aren't counted, your community will have less representation in government and receive fewer resources. When everybody participates in the census , it makes for a healthier democracy. That's why the ACLU fought hard to make sure that a citizenship question, which would have suppressed responses and skewed counts, is not on the census.
Most people will receive census form via mail. But whether or not you receive a census form in your mailbox, you can complete the census form online. If you have questions about the census, check out the ACLU's "Census 2020: What You Need to Know."         
CONTACT OFFICIALS AND URGE THEM TO ACT
Contact your elected officials directly to urge them to reduce the number of people incarcerated across the state. We know that jails and prisons are especially vulnerable to outbreak, which means that people who are incarcerated are at extreme risk of illness and death. We cannot allow these threats to go unchecked — we need to decarcerate now.
STAY HOME
If your work is not considered essential, the most basic and supportive thing you can do right now is to stay home.
When it is necessary to go out (i.e. to the grocery store or to a medical appointment), maintain 6 feet of distance between yourself and all other people. This helps keep you safe, it helps keep your friends and family safe, and it helps reduce the burden on healthcare providers and workers.
CHAT WITH PEOPLE IN YOUR COMMUNITY
Right now, everyone might be seqestered in their houses, but that doesn't mean planning for the future is out of the question. Set up a time to chat with your friends, neighbors or colleagues and formulate a plan of attack for what you can do now, and what you can do later when it's safe to congregate again. Sign up for a free Zoom account. 
SEND MESSAGES OF SUPPORT
Do you know a grocery store clerk working feverishly to keep our families fed? A nurse or healthcare worker who is sacrificing their safety to treat the sick? A server or retail worker who has recently lost their job? They need your support right now. Write them a thoughtful email or text message, letting them know that you're grateful for them. If you don't know anyone directly impacted by the crisis, post messages of support and appreciation on social media.
TAKE A BREAK
Remember to take care of yourself and stay charged. That means taking a break from the news when you need to and spending quality time with the people who are stuck inside with you.
Our favorite way to take a break (and keep promoting civil liberties) is by doing some coloring. The ACLU coloring pages below are great for kids, and the perfect décor for your fridge or home office. Don't forget to post your work of art and tag us on Twitter, Facebook or Instagram @aclumn.