TICKETS ARE NO LONGER AVAILABLE ONLINE, BUT ARE STILL AVAILABLE AT THE DOOR.
You can fight for our civil liberties while enjoying an afternoon of exceptional music at the Third Annual Unity Through Music benefit concert for ACLU-MN.
The afternoon of music at Macalester Plymouth United Church on Feb. 10 will celebrate the influences and diversity of world music. It features solos and ensembles comprised of musicians from the Minnesota Orchestra, the Macalester Asian Music Ensemble and the Macalester African Musical Ensemble.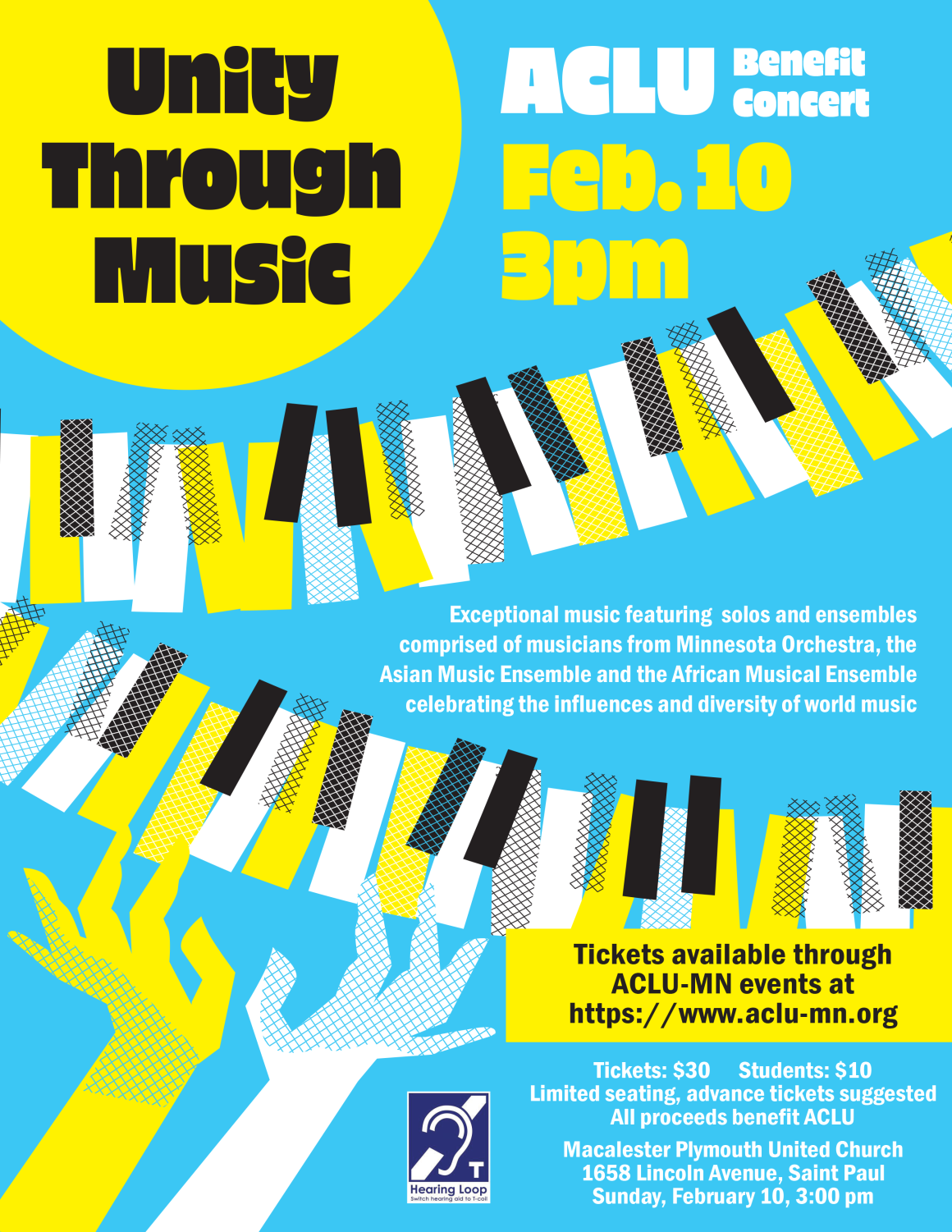 The event is the brainchild of Jean Carey, a specialist in repairing woodwinds. After the 2016 election, she was frustrated and worried about infringement on our civil liberties. She started looking for a positive way to respond and create change. She reached out to her musician friends about a concert benefiting the ACLU and found they were happy to take part.
"This year's concert is dedicated to both those struggling with immigration issues as well as to their champions, the ACLU, defenders of our civil liberties," Carey said. "Music is a joyous way to connect different cultures, celebrating their diversity and embracing their similarities. It's truly an honor to present this amazing group of musicians in support of the ACLU's efforts."
She hopes having such talented musicians play world music will help create a positive interchange of ideas, thoughts and art.
"Every time a different cultural group plays, they're spreading their influence," Carey said. Last year, the concert explored women composers in tribute to the #MeToo movement, and African American music in 2017 to honor Black Lives Matter.
Macalester music professor Sowah Mensah, who directs the college's African Music Ensemble, is a composer, ethnomusicologist and master drummer from Ghana. 
"Music is a universal phenomenon," Mensah says. "Musically, the world is a small place now. Musical influences are everywhere. Music is something that should help unify everybody."
"As long as music is being played, there are no more lines that pull people apart," he said. "If you are enjoying the music, it doesn't matter where you're from. Music has no barriers - that's how music can make for a better world."
The Unity Through Music program includes the Peter Schickele Quartet for Clarinet, Violin, Cello and Piano with Joanne Opgenorth, Jennifer Gerth, Laura Sewell and Ora Itkin; the Bohuslav Martinu Trio with Wendy Williams on flute; Greg Milliren on flute playing Katherine Hoover's Kokopelli; Macalester's African Music Ensemble under the direction of Sowah Mensah; and the Macalester Asian Music Ensemble under the direction of Chuen-Fung Wong.
Tickets are $30 and $10 for students. All proceeds benefit the ACLU.
TICKETS ARE NO LONGER AVAILABLE ONLINE, BUT ARE STILL AVAILABLE AT THE DOOR.